A bit about Carol Phillips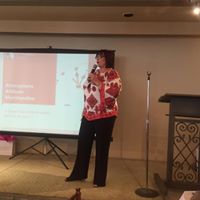 Carol Phillips is a nationally-known keynote speaker, trainer, industry consultant, and successful former spa owner. For the past 30 years, she has inspired clients all over the globe to re-focus on working smarter, using their resources at hand to build traffic, sales, and customer loyalty—especially useful information in today's challenging business climate.
Carol Phillips' unique selling approach enabled her spa to average 55% of total revenues from retail sales alone, causing her to be named American Salon magazine's First Retailer of the Year for her outstanding work in salon display, merchandising, retailing and staff training.
Over the years, Carol's articles and information have appeared in the Wall Street Journal, Life Magazine, American Spa, Day Spa Magazine, Spa Canada, American Salon, Modern Salon, Skin Inc., DermaScope, Salon Today, Nails, Nailpro, Medesthetics, and Les Nouvelles Esthetique, just to name a few.
Carol has produced over 25 DVD and audio spa sales training and 2 cutting-edge in-spa music programs. Her first book, In The Bag-Selling in the Salon, has become the gold standard of spa and salon sales training. Carol was on the International Spa Association team that wrote the definitive book, Retail Spa Management. Now beauty school students around the world are being trained in the first sales and marketing beauty school curriculum designed and produced by Carol Phillips, BeauteeSmarts for Beauty Schools.
Carol is the founder of BeauteeSmarts, which offers full service consulting, marketing, branding, training, product development and sales programs. Carol and her group have done work for industry icons such as John Paul Mitchell Systems, Redken, MD Formulations, Eminence, JCPenneys, SuperCuts, Mama Mio, Intraceuticals, and Jane Iredale. See Current & Past Client List
Carol has had the pleasure of consulting and training great spas like Canyon Ranch Resorts, Miraval, Wynn, Encore, Hilton Worldwide, Waldorf Astoria, Rosewood Hotels, Elizabeth Arden Red Door Salons, Gaylord Resorts, Glen Ivy Hot Springs, Grove Park Inn, MGM Hotel, and Exhale Spas. Carol designed the original prototype spas for Estee Lauder's-flagship Origins Spa and General Nutrition Centres. See Spa Consulting
Thousands of beauty professionals have seen her dynamic classes at ISPA's annual conventions and knowledge networks, International Beauty Shows (IBS), Midwest Beauty Shows, Les Nouvelles Esthetique, and International Esthetics, Cosmetics and Spa Conferences (IECSE). She has been a keynote speaker for all of Esthetique SPA International shows throughout Canada with standing room only. Attendees have reported doubling their business after putting her tips and techniques to work for them. See Testimonials
Carol has worked in every phase of the beauty business, from behind the chair as a CISDESCO diplomate, the counter, the desk, the computer, and microphone. Her unique insight into every facet of the beauty industry helps her design a SMART (Sales, Marketing, Advertising, Retail, and Training4Success) consultation package that gets results for your beauty business.