Online Education
The world is now at your fingertips.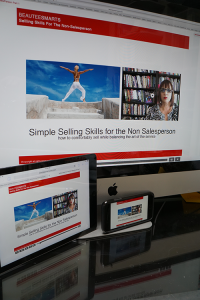 The new BeauteeSmarts Online Learning Lounge  (OLLY) brings the world of business education to your computer or on-the-go mobile device. Curl up with your favorite fuzzy slippers a mocha latte and plug into a whole new way to learn.
"I have had the pleasure of going on location to train at many world class spas. The spas experience amazing results (many reported increases of over $100,000 per month), but then it takes months, even years pass before followup classes are scheduled.  In the meantime sales gradually fall flat. As a way to continually improve sales, beauty businesses need a way to access on-going education in a systematic plan," says Carol Phillips.
This spurred Carol to create the new BeauteeSmarts Online Learning Lounge where you can connect with live webinars, individual pay-per-view classes or BeauteeSmarts will create a custom learning lounge of classes for your entire team where  each team member can sign in, take a class, take a test and get certified at every step of the educational process. Now you can finally plan and monitor your team's sales education.
The BeauteeSmarts Online Learning Lounge features VIDEO streaming classes, not just a voice over a super-boring static PowerPoint image. Carol's goal is an intimate one-on-one training session with staff tracking, accountability, and management reporting built right in.
Today it can be too expensive to take your entire team to a trade show or seminar. Now you can weave daily, weekly or monthly education right into the fabric of your beauty business. Create a culture of life-long learning. You create the culture and  BeauteeSmarts create the classes.
Call Carol today to see how you can get your team trained and ready to rock the house with sales!  Call 760.678.0022  now.
Click here for video preview http://youtu.be/QU9-lVZC9HQ 
Carol Phillips Core Selling Package
Over 7 hours of business-building content

(if you were  going to work for me, these are the selling classes you would need to master!!)
Details
 On How The Lessons Work
Lesson average length is 1 hour
Online testing with instant access to testing, tracking, and video assessments
Lessons desktop, laptop, iPad and smartphone compliant
All classes are brand-neutral so they support every brand!
Classes work for all beauty pros: front desk, stylists, estheticians, nail techs, massage, makeup, and assistants.

 

Lessons are available 24/7 so you can move through them at your own pass or be set up to roll out lessons.
Feel The Love About Carol's Online Selling Classes
🙂 Hi Carol! I just wanted to express what a wonderful sales course you are developed. I really enjoyed the content and wanted to give you praise, Girl. 😉
This course has helped me to feel very confident in the things that I do well with regard to sales…AND it helps me to open my eyes to the areas that I am more complacent. I am so happy to say that our retail percentages are really good. But, as an owner, I feel they could always be better. We were at 25% for retail to service ratio for April – for May we are at 37%!!!! I will gladly take that 12% increase.
Your course is amazing and has made a definite impact on my business. Thanks so much! <3